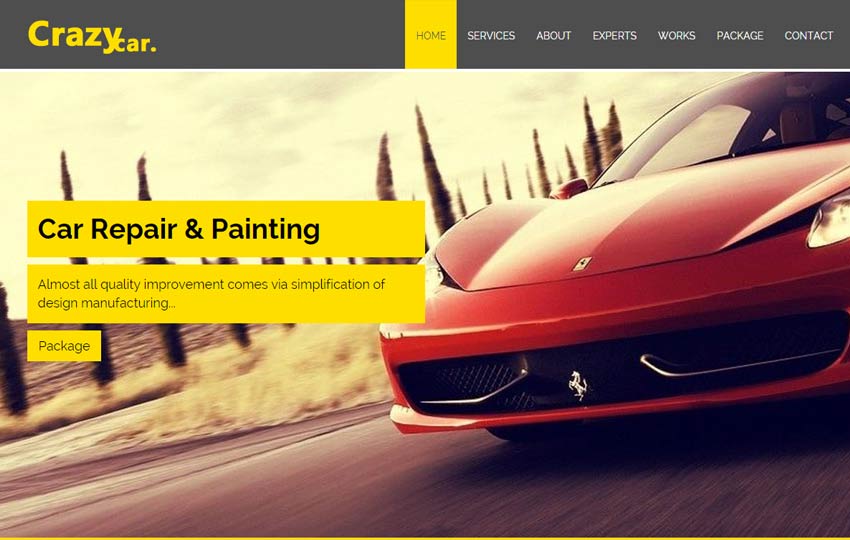 In today's world time is considered precious and comfort has become the wish of every individual. Everyone desires to have their own vehicle to make things easy for them and save time as well.
So owning a vehicle has its own pros and cons. When the vehicle lands in any problem, bringing it to the right repair shop is something that anyone would do. But finding the right place that provides quality service for your cars is a tough job. And through online one can get the entire detailed list of the car service shops that are open nearby.
Also a vehicle gives you good comfort and feel only if it is well taken care of. Yes! Maintainance is a must for any vehicle to endure and serve you better.
HTML Car Templates:
Today we bring you the most popular and impressive collection of free car website templates. so all these free bootstrap templates are built on Bootstrap, HTML5, and CSS3. Also, it is absolutely free to download.
So if you run a vehicle repairing business or own a car service shop and have marked your own identity with professionalism in your area and now looking to mark your presence in the online world, then we have the best list of Free Bootstrap templates with the help of which you can create an amazing website and this can definitely fetch you more customers in the shop.
May of us think that Car Repair business is not belonged to online as one needs to take their car to the repair shop to fix their problems. Though it seems right on the contrary through online service one can easily reach out to more number of clients. And by providing quality service and gaining the customer's trust they can increase their chances of more business and great revenue.
Latest Technology :
These Car service templates are crafted professionally using the bootstrap framework and the latest technology HTML5 and CSS3. These Free HTML5 Bootstrap Car Wash templates are designed on high-quality code standards. This is because we would like to set a benchmark of quality in the market.
These free html website templates are fully responsive design and show no compatibility issues adjusting to any screen resolution. These Best HTML5 Car Wash templates are highly compatible with multi-devices like desktops, laptops, tabs and Smart phones. They also show great browser compatibility with various browsers like Chrome, Firefox, Safari and Internet explorer.
Our Special Features :
These Car Wash Templates comes with special features like Option to add or remove the background pattern, Interactive slider, on-scroll animations, Filter, Gallery, Testimonials, Working Contact Form, Google fonts, Font-awesome, social icons etc.,
These Auto parts Repair website Templates are developed as Freeone which displays the entire content in a single page and also as multi-page templates that comes with clear details for those customers who expect it that way.
These templates are flexible, easy to understand and doesn't need much efforts for customisation. Just make slight necessary modifications, work on the documentation part and you are good to go.


Crazy Car Repair
Car Zone
Royal Car Template
Car Care Auto-mobile
Car repair Template
Motor Car Wash
Wheels Car Wash Bootstrap
Sonic Free Car Repair
Super Car Service
Zip Car Wash
Clear Car Wash
Rolls Car Rental
Swift Car Wash
Carz Car Service
Car Trade
Car Bank
Auto Car
Carmotive
Car Towing
Car Hub
Race a Sports
Joy Ride