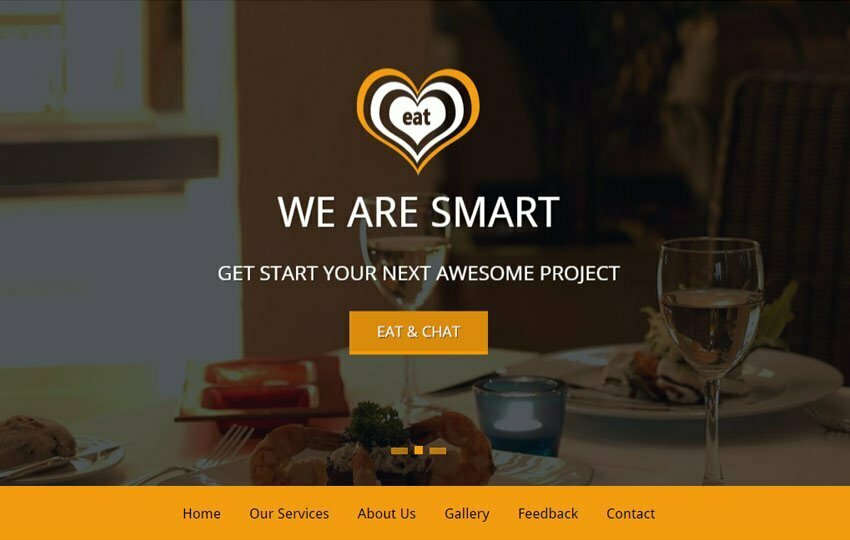 Every business has a portfolio to showcase their respective services and products. Today we discuss one of the most popular business successfully running now, can you guess? Yes, we are going to discuss about Restaurant Business. As we knew everyone around the world works for food and shelter. The food business is never going to end, its an evergreen business.
We see huge number of Restaurant got established in recent year's, this got realized the tough competition among the food business. So here we want to play an important role to help Restaurant business owner to stand out in the competition.
To make this easy we have come up with amazing collection of HTML5 Restaurant website templates. All these free html templates are well crafter the stunning designs, as well as developed using the latest technologies. These templates are absolutely free to download and very easy to customize and setup.
These templates specially designed for those who are particularly looking to build a Restaurant website. These collection packed with all the amazing features that will give it an appetizing and flavorsome look. By using these you will definitely satisfy the customers.
Restaurant Website Templates:
Today's generation running a profitable business, not an easy task, to be successful we need to be ahead of our competitors. The restaurant business is a very competitive business around the world. Regularly we need to update our sleeves in this business. So here we trying to help the Restaurant business owner by coming up with stunning templates.
All our HTML restaurant website templates are built on a very high-quality code standard. There the perfect solution to build websites like Restaurant, Food, Cafe, Hotels, Bars and Garden Cafe. So these themes can easily compete and stand out when compared to the other premium templates in the market. One has to think more to understand the quality that has been maintained in all of these restaurant templates.
Web Trending Features:
Latest Bootstrap 3 & 4 All our templates built on latest version of the Bootstrap framework.
Code Quality: All these templates built with clean & developer-friendly HTML5 and CSS3 code
Responsive: 100% Responsive Website Design
Layouts: One Page and Multi-page Templates
Vertical: Multipurpose Theme
Fonts: Google Fonts Support
Icons: Font Awesome
Navigation: Implemented Smooth Scrolling
Overview: Easy to Setup and Customize
Forms: Implemented working Contact Form
Bootstrap Framework:
There is no doubt Bootstrap 4 Framework is the most popular framework for web developers. Therefore, we have used this framework as our foundation in all of the templates. By using this framework we will get a well-designed structure via a grid system. This framework is consist of HTML5, CSS3, and JavaScript. It's a free and opensource tool available online. There are tons of pre-built components on the Bootstrap framework.
For example: Navigation bar, alerts, accordion, form elements, drop-down, tool-tips, popups, and many more. By using all this we will get a structured website layout which adepts the multiple screen resolutions like for Mobile, desktop, iPads.
Responsive Website Design:
The crowd is running fast toward digital world, almost everyone has a desktop, mobile phones, tablets, laptops, phablets, smartwatches and so on… So if you are developing a website for your business or client. You may want to take this into consideration while developing a website.
Responsive Website Designing is a next-generation approach in which a website's layout fits the size of the viewer's screen and helps to create an perfect viewing experience irrespective of the device of the user.
Conclusion:
In conclusion, we requrest you to take your time and scroll below to check all these templates, which are absolutly free to Download.

Eat Smart
Golden Hotel Free HTML5 Bootstrap Template
Grill Free Responsive Restaurant Template
Spice Restaurant Material Design Template
City Cafe Restaurant Bootstrap 4 Free Website
Tasty Restaurant HTML5 Bootstrap Template
Little Heart Free Restaurant Bootstrap Template
Kitchen Restaurant Bootstrap 4 Template
Heart Cup Cafe HTML5 Restaurant Template
China Bistro Bootstrap Website Template
Flavour Restaurant HTML5 Responsive Template
Italy Best Restaurant Website Template Free
Bestro Restaurant Bootstrap HTML5 Template
Ice Cream Parlour Bootstrap HTML5 Template
Free Bootstrap Template Restaurant TreeHut
Luxury Hotel
Coffee Shop Free HTML5 Template
Cozy Hotel
Tour Website
Royal Hotel
Traveller Hotel
Exotic Tours
Villa Template
Pato Place
Travelix
Western