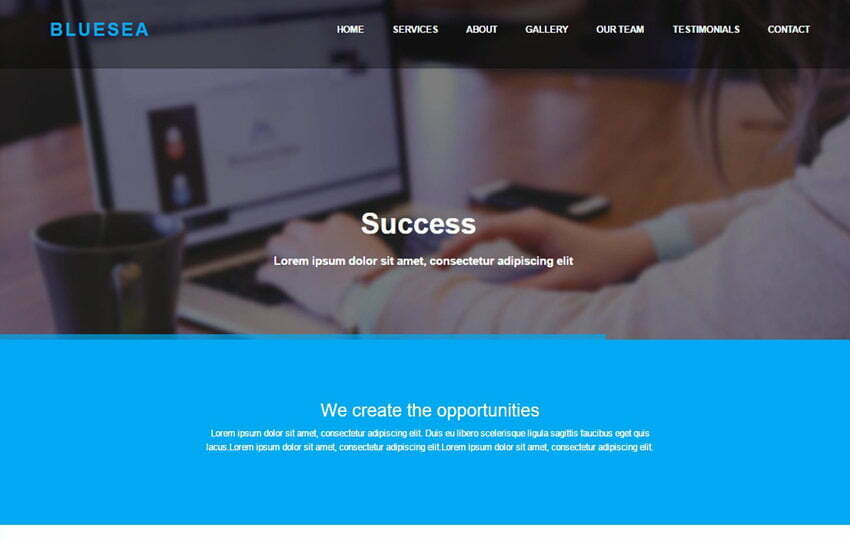 Let's see the outstanding collection of free Business website templates in 2019. These popular templates are a perfect match to build websites. Like corporate, business, consultancy, agency, portfolio, e-commerce, real-estate and many more. So all of these web templates are built on HTML, CSS and Bootstrap framework. These are very easy to customize and setup.
Free Business Website Templates:
All these free business websites templates best picked by our 370 plus website templates at WebThemez. Our collection got a perfect modern look responsive web theme. Therefore, all of these templates designed and developed by experienced professionals. At webthemez, we have high-quality designers and developers. So, who workaround on the HTML website template to fulfill the customer requirements.
So these free templates have a tons of features like; responsive design, single page website, a gallery with filters, modal popup and working contact form. These amazing features help you new or established startup to the next level. By attracting new customer or clients to your business.
At present market has tons of free digital products like web PSD template and HTML templates. Not sure, all of these are quality or no. It may take time to get a quality template. At our site, we make sure all our products have a quality. So by choosing us, you can save your valuable time and money.
HTML templates, the most popular themes used by web developers. To build a static and responsive website layout template. So these are the perfect match to build a startup business website this year. Therefore, these templates enhance the web user experience. So we adopted the latest technology standards in our template collection.
These templates, built on your favorite technologies like Bootstrap 3 & 4, HTML5 and CSS3. These landing page websites designed and developed by the professionals. Our template collection has two kinds of layouts like one page and multi-page website templates. We used Fontawesome for Icons and Google Fonts for cool fonts in our themes to get the more elegant look.
Simple Website Features:
Minimalistic and Clean Design
Latest Bootstrap 4 framework
Clean & Developer-friendly HTML and CSS code
100% Fully Responsive Website Design
One Page and Multi-page Templates
Multipurpose Theme – You can use for any niche.
Google Fonts Support – Tons of elegant fonts
Font Awesome – for website font icons
Smooth Scrolling – Single-page navigation
All Major Browser Compatible like (Chrome, Firefox, and Safari)
Easy to Setup and Customize
Working Contact Form with documentation
Bootstrap Framework:
All these follwing templates are built by WebThemez professional developer. We use a latest standared of design approach. And built on latest Bootstrap framework (version 4), HTML5 and CSS3. These templates are fully responsive compatable with multi devices.
Responsive Website Design:
A Responsive Web Design (RWD) is an approach in which a website's layout adapts to the size of the viewer's device screen and helps to create a simplified user experience irrespective of the device of the user. All our layouts support multi devices like mobile, iPad and desktop.
Why our Business Webistes:
All these business templates fit perfectly for any new business or product application. For instance, a website for corporate business, creative agencies or portfolio.
Therefore, all these templates are very simple to use or customize. All you need to select your faviourt template from our outstanding colleciton. Open the folder and edit the index file and update your content. Its very simple to setup your updated site to host.
After your changes just take the solution and upload it to your hosting account via FTP tools like FileZilla or Coreftp. It is very simple to set up our templates.
Conclusion:
In conclusion, we would like to recommend you to take a time and scroll down the collection. And select you favorite template for your next project or a startup.
So why wait, start free Download now. Happy browsing!!

4Team
Midway
Rider
Enroll Theme
Active
Bluesea
Xtream
Akron
Jumbo
Acura Website
Ballet
Fortune CSS Template
CSS Template
Arise
Delight
Breza
Flexbox
Cello
Egate
Victor
StartUp
Agile
Magnet
Tokyo