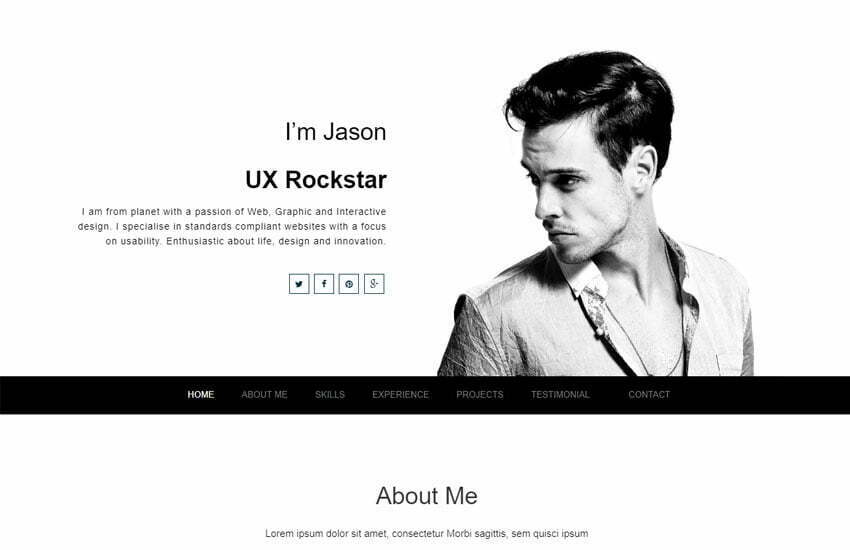 Online branding has become the most popular way to present your portfolio to the visitors. Today we have collected the top excellent online Resume and CV website templates. The best and professional way to showcase your CV or Resume portfolio to the companies. 
These free online resume templates are built with HTML, CSS and Bootstrap technology. So this makes you very easy to update your content into the HTML file without any trouble.  
Why Online Resume Website:
Online resume website templates are the best and impressive way to show your personal data to the professional companies. an online resume is a website like any other, so this has the same technology. The best part of the online resume is anyone around the globe can see your profile, and they can contact you directly via email or telephone. Also they can downlod your resume online.
In this way, it will give you more visibility to the worldwide multi-national companies. And you can travel around the world as per your job location. These give you the number of opportunities like visiting new countries, meeting new peoples and learning new things.
There are Five reasons why you should use Online resume website:
Online resume website gives you a more professional and visual impact.
Your profile can be viewed around the globe at any time.
You can include Videos and Social media network like (LinkedIn, Facebook, GooglePlus)
Fast and easy to set up.
Following the trend and showing up your skills by this.
How to Build a Simple CV Website:
Its very simple to build a simple online CV or Resume website. Just following the below steps you can build your online profile.
Select you faviourit resume template from the given below collection
Download the HTML template
Now customize the index file with any HTML editor
Update your content like Name, summary, skills etc..
After your done with update, just upload it to your hosting account.
That's it your done.
Resume Website Template Features:
These resume website templates built on latest and trending technologies like Bootstrap 3 & 4, HTML5 and CSS3. So all these templates come with jquery filter gallery, responsive design, modal popup, CSS animation and so on. These templates designed and developed by the experienced professional web developer.
We used Google Fonts in our themes to get the more elegant look and feel. All our templates come with a working contact form and very easy to set up or customize.
HTML/CSS Website Features:
Latest Bootstrap 3 & 4
Clean & Developer-friendly HTML5 and CSS3 code
100% Responsive Website Design
One Page and Multi-page Templates
Multipurpose Theme
Google Fonts Support
Font Awesome
Smooth Scrolling
Easy to Setup and Customize
Working Contact Form
Responsive Website Design:
Its very simple to explain about responsive website design, the world is moving quickly toward digitalization. Almost everyone has Desktops, Smartphones, Tablets, Laptops, Phablets, Smartwatches and so on… So if you are developing a website. And your client wants to see in their mobile you must give your website mobile or multi-device compatibility.
Why Bootstrap Framework?
The Bootstrap framework developed by designer and developer from Twitter, later this has become one of the trendiest front-end frameworks in the whole UI development community. The Bootstrap framework comes has a mobile-first.
This framework is developed along with HTML5, CSS3, LESS, SASS, jQuery, and JavaScript.
So if you are using the bootstrap framework, then check this out mindblowing features like a grid, Components Alerts, Badge, Breadcrumb, Buttons, Button group, Card Carousel, Collapse, Dropdowns, Forms and Many more.
Conclusion:
Lastly, I would like to help you to build your first online professional resume website template. So following are some of the best impressive collection to choose. Download these templates for absolutly free with folling ther theme guidelines. Happy browsing.

Wow Portfolio
Johndoe
Creative Dev
Andey
UX Rockstar
MyBook
Samuel Vcard
Snap Photography HTML Responsive Template
Online Resume
Focus Best Photography
C Resume a Personal
Multi Tabs Resume
Elegant Resume
Classy Resume
Creative Resume
My Resume
Easy Resume
Mungo a Resume
Resume Portfolio
Recognize Personal Resume
Memoir Resume
Flash Portfolio
Andey Resume
Iam Resume