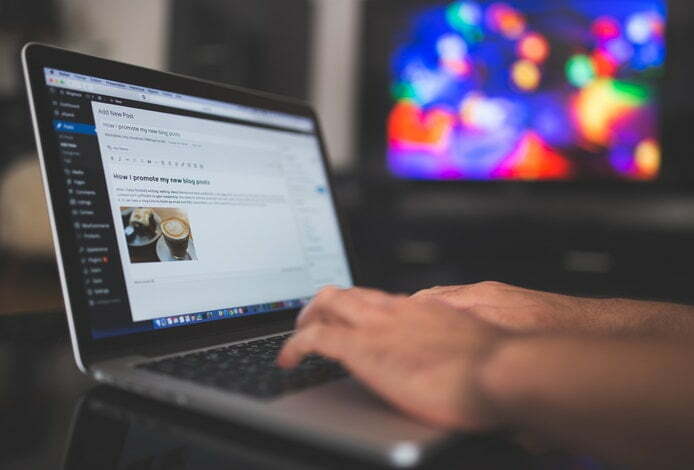 Whether you are selling physical products or providing services, you need a website where potential clients can learn more about your business. While you can't expect anyone to buy from your website on their first visit, you still need to keep them engaged until they are ready to convert.

Apart from the information you include on every page, you also need to design your website in a way that captures the attention and reflects the needs of your audience. Visual content plays a crucial role in the process of turning first-time visits into repeat visitors and eventually into sales conversions. Here are a few tips for how you can about building a visually engaging WordPress website:
Don't go overboard
The last thing people want when they land on your website is to be overwhelmed with too much information, whether it's visual or verbal. Minimalism is undoubtedly the dominant design trend of the moment, which means your site visitors are expecting a suitably slick website. With these expectations in mind, you have a better chance of engaging potential customers using just a few visual assets. Less is definitely more, so keep your site simple. The last thing you want is to bury your brand's core messaging under a chaotic mess of animations, videos, and graphics.
Be brand-consistent
Your WordPress website also functions as a tool for reinforcing your brand identity. It should act as an extension of all your other visual branding efforts. So, make sure to incorporate your brand colors, typography, and other design elements into every page. You also need to place your brand logo at the top of every page (or somewhere else, depending on the premium WordPress theme you have chosen). This kind of logo consistency makes it easier for customers to remember your brand as they browse the internet. If you don't already have a logo for your brand, you can look for a free logo generator to save more time on building your brand identity.
Make your design unique
While minimalism makes websites easier to navigate, it also leads to a lot of "sameness" online.  It's fair to say that after a few years of maxed out minimalism, online users may have had their fill of similar-looking websites. While you can always make minor modifications to the theme you selected, you should think about how you are going to give your audience a unique experience. Think about web development as architecture or interior design. While you need to follow certain design principles, they shouldn't keep you from gaining inspiration from other brands and experimenting with new concepts. 
Never ignore the user experience
As you experiment with different web design ideas, it's always important to think about their impact on user experience. After all, it doesn't matter how beautiful your website is if your users can't actually navigate it. People will want to know what else is in store, so provide them with a seamless experience as they navigate from page to page. If you have an e-commerce website, you need to make the checkout and contact page accessible and clean up your onsite catalog so that only vital information (like price and customer ratings) remains.
Pick the right photos and illustrations
Visual content can do a far better job at storytelling than blocks of web copy. Great supporting visual content makes your website easier for even the shortest attention spans to digest. Select high-quality photos and illustrations that can set the tone of your brand identity, while also telling a story about who your brand is. The right images should capture your brand and offering at a glance. A good piece of advice is to ditch stock photos and graphics. Use your own employees as models and your establishment as the venue. Moreover, you can also hire a professional graphics artist who can create eye-catching materials for your website.
Presentation is a big factor when you are developing a WordPress website. Keep these tips in mind so you can optimize your brand's online presence and give people a good reason to engage your business.