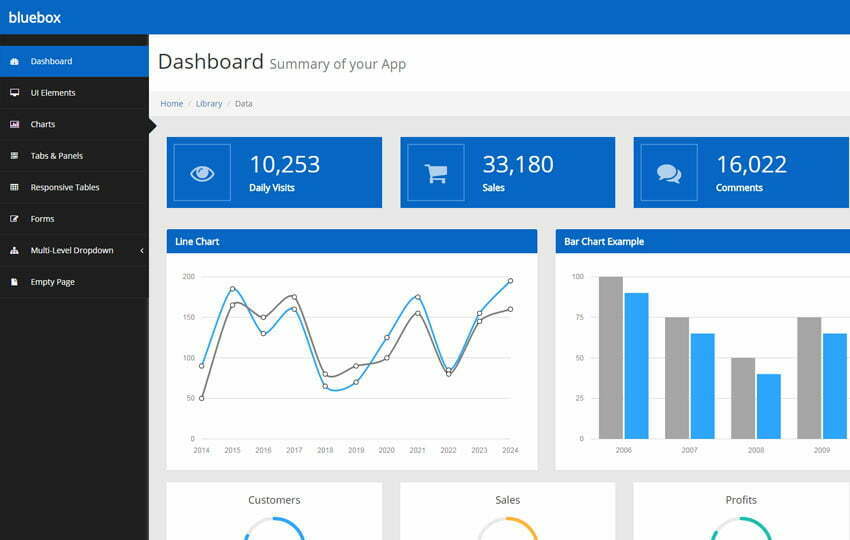 Find the top collection of free bootstrap admin templates for a web application in this year 2019. All these, bootstrap simple admin templates are absolutely free to download. So let us explore more details.
What is the Admin Dashboard?
Admin Dashboard panels are the web user interface of online applications; this UI works as a back-end side of a web application. They usually operated by administrator or moderators to edit, update or manage app. For example the WordPress Dashboard.
Bootstrap Simple Admin Template Free:
Bootstrap admin templates are specifically built on the bootstrap framework. Using this framework the dashboard application looks simple and clean.
This framework used the majority of the dashboard web applications around the globe. Usually, this kind of frameworks helps in improving the user experience.
Bootstrap framework is the most popular and used framework by web developers. This framework developed by Twitter developers on HTML5, CSS3, and JavaScript. Also, this comes with tons of pre-built features.
Bootstrap 4 Admin Template Free:
These awesome and stunning collection has a free bootstrap 4 admin template with all latest standards. Bootstrap 4 dashboard has the best of best features at present in the market. So we have picked the stunning theme for your projects.
In the present scenario bootstrap 4 admin themes getting an amazing response. So we thought of bringing you the best free bootstrap admin templates build with the latest version of the Twitter Bootstrap. All this free bootstrap dashboard template collection has a great UI design with excellent usability.
Responsive Design Dashboard:
Dashboard responsive design is an approach to give the application a multi-device compatibility. By this, a user can undoubtedly read and explore your site with no ease of UI issues. A site is not responsive will confront ease of use issues such as navigation and reading the content. Be that as it may, WebThemez ensure we have 100% responsive web templates which are compatibility to across all the devices.
Conclusion:
These are some stunning and modern Bootstrap admin templates collection. All these, templates have a great user interface design which you like a lot. These, free admin templates comes with tons of UI components like forms, UI charts, Gallery, modal box and many more.
The bootstrap admin themes are very easy to customize and implement with your programming code. Bootstrap is highly customizable; you can easily customize it to match with your application. Check our latest collection and download the matching admin template for absolutely free.
Finally, We would like to recommend you to check WrapPixel for more free bootstrap admin templates.

Xtreme Admin Lite
Brilliant Free Bootstrap Admin Template
Nice Admin Lite
Marvel Bootstrap Html Admin Template
Bluebox Free Bootstrap Admin
HYBRID Bootstrap Admin Template
Master free bootstrap html5 admin theme
Insight Free Dashboard Theme
Matrix Admin Dashboard Template
Dream Admin Template
Dark Edition
Shards Dashboard
INSPINIA Admin
Bootadmin
Admin Theme
BootAdmin
React Admin
Tabler Dashboard
Sufee HTML5 Admin Dashboard
Miminium Admin
Notebook Admin Template
StarAdmin
Vue Bootstrap Dashboard
Now Admin Dashboard
Bulma Dashboard Template
Colored Admin Panel
Paper Admin
Adminator Admin Template
Crystal Admin
AdminBSB – Material Design
MaterialPro Lite Admin
AdminPro Lite Template
Matrix Admin
NGX Admin
Bootstrap 4 Admin
Monster Admin Lite
Material Dashboard
CoreUI Admin Template
Bootstrap 4 Admin Dashboard
CoPilot Admin
Shoppy E commerce Admin Panel
Angular Bootstrap Dashboard
Bootstrap 4 Dashboard Theme
Modern Admin Panel
Novus Admin Panel
Minimal Admin Panel
Light Bootstrap Dashboard
AdminLTE Dashboard Template
Binary Admin
KAdmin Admin Dashboard