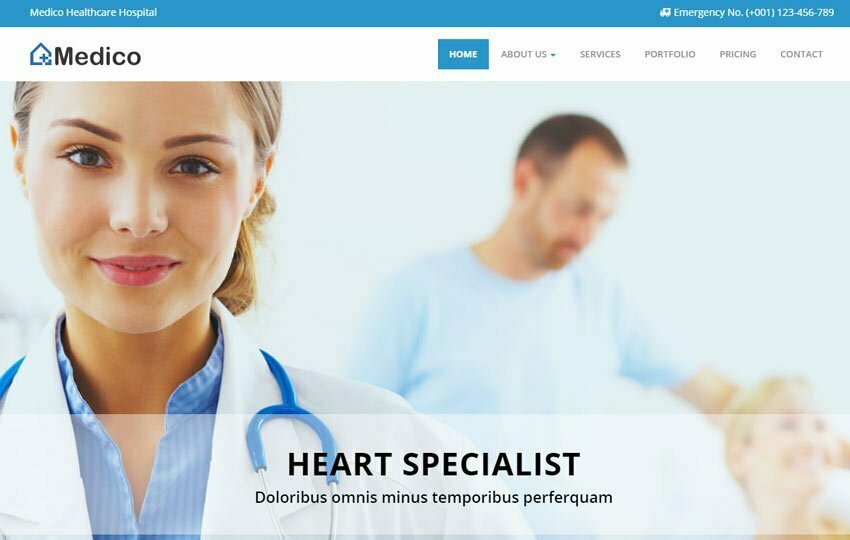 List of best responsive medical website templates designed and developed especially for medical and hospital websites. These are useful and highly customizable website templates that allow you to build an impressive professional website for medical, hospital, doctor and clicnic.
You might be wondering there are tons of latest medical & hospital website, so why you need to check our templates collection, because all our templates are built with experience professional designers and develop with latest and best practices.
Therefore, all these medical websites look out of the box design, in a way it will attract more views and customers. Building a best professional website might play a crucial role in your business growth. All our website templates are SEO friendly and google will take care of the rest of your business growth.
HTML and CSS is the top layer of your website, with the help of HTML & CSS we style the look and feel of any website. This UI looks plays a very important factor while developing any website templates. So in our collection, you will see the quality of work done by using HTML & CSS.
Why Medical Web Templates:
The main purpose of these templates collection is to give a web solution to the medical industry. Our medical templates collection consist of one-page layout and multipage layout, these are the perfect solution to create an impressive website for medical, hospital, doctor and clinic.
Therefore, by using these free medical website templates have a great visual impact on your clients. For instance, the current generation moving on digitalization, everyone around browsing websites on mobile, tabs, and desktop and many more.
Template Features:
Font Icons: SVG, Elegant and FontAwesome icons for retina.
Google fonts: Used Google fonts to enhance the look & feel of the website.
Best Practices: We do follow the best web design practices.
One Page and Multi-page Templates: We have two types of web template layouts. The first one, Single page layout and the second one, Multi-page layout.
Easy to customize: All our web themes are very easy to customize for any changes or you can easily update the content.
Working Contact Form: We provided a working contact form in all our multipurpose website templates, with documentation.
Bootstrap Framework: The most popular and great front-end framework in all our templates.
So we have been through the regresses process to develop this best ever free medical templates, which compile all our test like 100% fully responsive, using the latest bootstrap framework, following best quality of coding standards and multi-device compatibility. We used trending open source tools like Google Fonts, owl carousel, Font Awesome.
Responsive Web Design:
Why use a Responsive web design? Nearly 75% of the websites around the world are supporting multi-devices and different browsers. Therefore, responsive design plays a major factor in developing the websites. So by knowing this we make sure all our templates support fully responsive.
Bootstrap Framework:
Bootstrap is a powerful HTML and CSS framework used by most of the web community, Its a free and open source tool available online. Moreover, these bootstrap website templates built by WebThemez. we have a good experience professional designer and developers. So all these templates well designed and developed by our team, by following the best practices.
Bootstrap framework websites are by far the most popular front-end framework used by 60% of the entire industry. This framework is simple, easy to use and setup and it's free to use for personal or commercial purpose. Available for free and thanks to the great community, they are building stunning UI components. Also, we have used these components in our template collection. These construction templates are the best example on how you can showcase your project details like upcoming projects, completed projects, gallery, contact form and many more.
Moreover, the bootstrap 4 has a huge number of pre-styled components like navigation, alerts, tooltips, modal popups, gallery, and drop-down menus. Therefore we built these templates with best features like modal image viewing, portfolio gallery, single page scroll. You can easily add these elements to your website to make it more user-friendly.
Conclusion:
In conclusion, We would like to recommend you to go through our collection. Just download your favorite bootstrap theme and use for your personal or business purpose.

Shine
Health
Dentist Template
Medico
Touch
Medplus
Medical
vCare
Doctor
Medical Template
Doctor Web Theme
Clinic Template
Medical Theme
Dental
Health care
Care Doctor
Medic Medical
Medical website
Clinic Medical
New Clinic Medical
Medically
Clinical Lab a Medical
Hospital Website